7 Rangi Formula – Best Freelance Proposal That Wins Jobs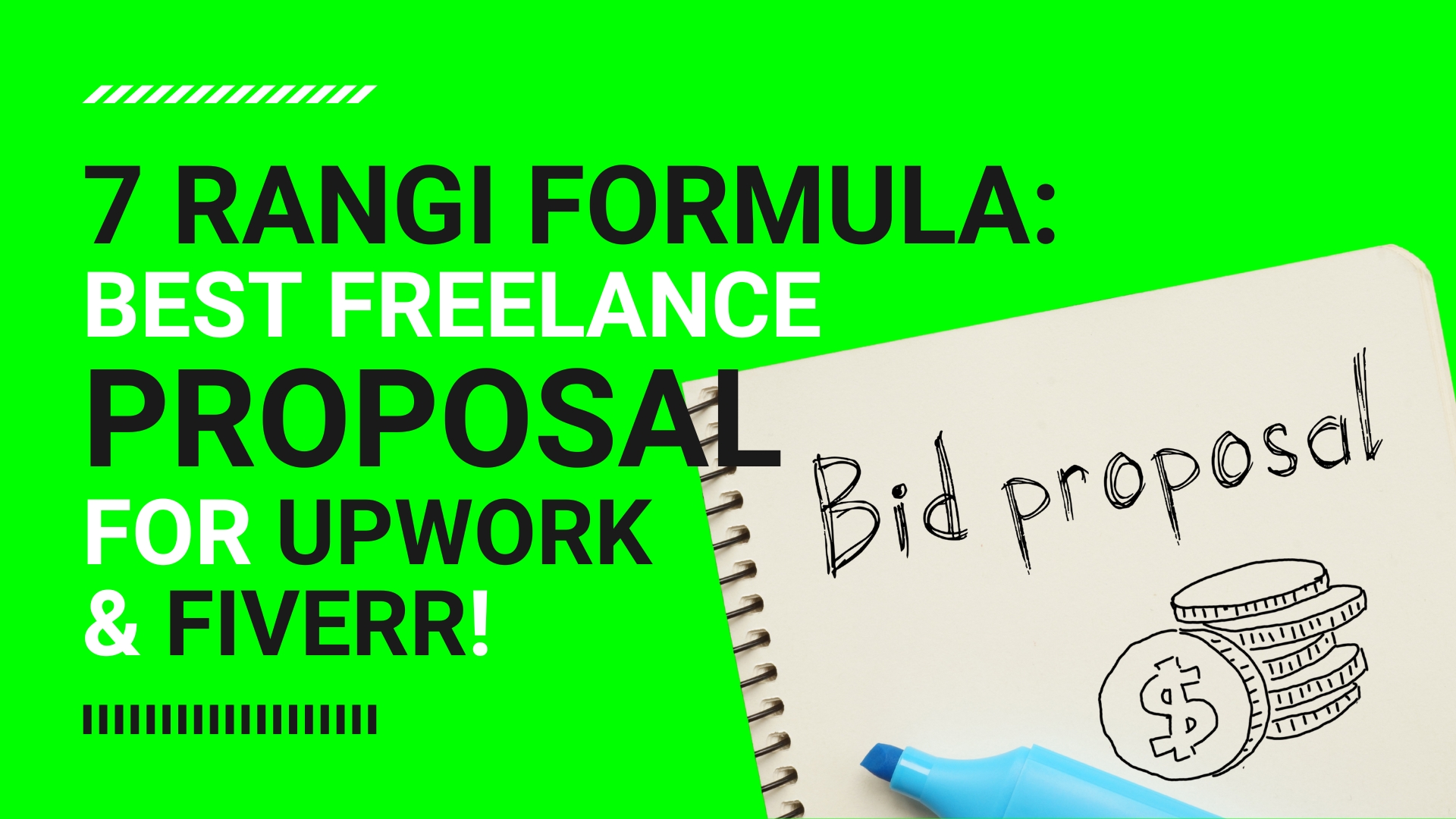 Are you looking for a freelancing proposal for Upwork or Fiverr? If so, you have come to the right place.
7 Rangi Formula is a seven-step freelance proposal for freelancers to win their first freelance project.
Hisham Sarwar, the Freelancing Guru, has developed the "7 Rangi Formula", a successful bidding proposal for freelance beginners. If you implement this formula smartly, it can convert and brings success on platforms like Upwork, Fiverr, and Freelancer.com.
Freelancers can win freelance projects and attract more & more potential client's response and their businesses.
Freelancing is a great way to be your own boss and make money without having to commit to a traditional job. For those unfamiliar with freelancing, this article: What is Freelancing Meaning? provides an introduction to the concept.
BEST FREELANCE PROPOSAL fOR UPWORK
Upwork is an online platform that provides freelancers with the opportunity to search for and apply to jobs suitable for their skillset.
It is important for freelancers to have a well-crafted proposal when applying for jobs on Upwork. Having a great proposal can help you stand out from the competition and increase your chances of landing the job. This is where the 7 Rangi Formula comes in:
A good proposal should include details about yourself, a description of the project, your qualifications, and why you are the best person for the job. With proper preparation and an eye-catching proposal, freelancers can find success on Upwork.
BEST FREELANCE PROPOSAL for Fiverr Buyer Request
If you're looking for a freelance proposal that will really stand out from the competition on Fiverr, consider using the 7 Rangi Formula to craft a strong and persuasive pitch.
First, make sure to clearly introduce yourself and your skills, highlighting any relevant experience or education that sets you apart. Next, focus on the specific needs of the buyer and how you can uniquely address them through your services.
By following the 7 Rangi Formula, you can show the buyer that you are a highly organized and professional freelancer who is ready to take on their project with a clear plan in mind. This will not only increase your chances of getting hired, but also set the stage for a smooth and successful collaboration.
The "7 Rangi Formula" – 7 Effective Freelance Bidding Points Proposal!
The 7 Effective Freelance Bidding Points of the "7 Rangi Formula" are as follows:
Greetings such as "Hi" and "Hello" are essential tools in the freelance world. Using these simple terms of greeting shows respect and creates an atmosphere of trust and openness for potential clients, builds relationships with existing clients, or adds a friendly, professional touch to any communication.
Example,
Hello Sarah,
Hi Mike,
Salam Muhammad Ali,
Restating the Employer project involves assessing the original parameters and objectives of the project and then developing a plan for completion.
Example,
I understand you are looking for Web Banner Ads and have a Marketing Agency. So you expect, Amazing Banner Ads for your Marketing Agency using Modern Design Techniques and Patterns, then look no further.
Example,
Are you looking for Web Banner Ads? If or want someone who can Design Amazing Banner Ads for your Marketing Agency using Modern Design Techniques and Patterns, then look no further.
Introducing yourself as a freelancer is a great way to make a good impression and put your best foot forward. When introducing yourself, include a summary of the work you specialize in, any professional accolades you have achieved, and your experience.
Example,
I have been providing Creative Design services to businesses in the US, UK, and Canada through my small Creative Agency. I am a certified Graphic Designer who specializes in Designing Ads, Social Media Posts, Banners Etc.
Example,
I have previous experience in Designing Banner Ads. I am a certified Graphic Designer with five years of experience in Creating and Designing Ads, Social Media Posts, Banners Etc. for clients in the US, UK, and Canada.
Here, you will reiterate how you will complete the client's project. What will be included in the project?
Example,
I will create 2 Banner Ad Designs (250×250, and 750×200) in 24 hours and provide a source file with JPG, JPEG, or PNG filetypes. I will provide unlimited revisions until you are 100% satisfied.
Or
I can create you an eye-catching Banner Ad Design within 3 days. I offer unlimited revisions, and source code in the format of your choice ready for editing and printing.
Showcasing your portfolio is one of the best ways to demonstrate your skills and abilities as a freelancer, as it provides potential clients with an easy way to view your work and decide whether you are the right fit for their project.
Utilizing an online portfolio or website to display your projects, skills, and experience is key to landing new clients and taking on projects.
Example,
Here is my online portfolio (Link) of my previous work.
Here is my previous work portfolio (Link).
Or
My portfolio includes a range of projects from the past few years, from [Skill] to [Skill] to [Skill].
Offering something free gives potential clients a chance to experience the skills you have to offer. Or asking a question starts a conversation, which can be a great way to attract your clients.
Example,
I'll offer you a free Banner Ad with each Banner Ad you order. So you get more and spend less.
Or
I have a question. What kind of Banner Ad are you looking for?
In the world of freelancing, closing remarks in proposals, cover letters and biddings are an important part of professional communication, these closing remarks create a sense of familiarity and can make a potential client or employer feel more comfortable when dealing with a freelancer.
Example,
Looking forward to your response and doing business with you.
Sincerely, Agha Sahad Khan
Regards, Agha Sahad Khan
Cheers, Agha Sahad Khan
Conclusion
The "7 Rangi Formula" is a set of seven effective points that can be included in a freelance bidding proposal to increase the chances of success. These points are designed to help freelancers present a compelling case for their services and showcase their skills, experience, and value to potential clients.
By including these seven points in their freelance bidding proposal, freelancers can increase the chances of being selected for a project and establish themselves as a top choice for clients.