Online Jobs for Students in Pakistan – Top 10 Best Jobs 2023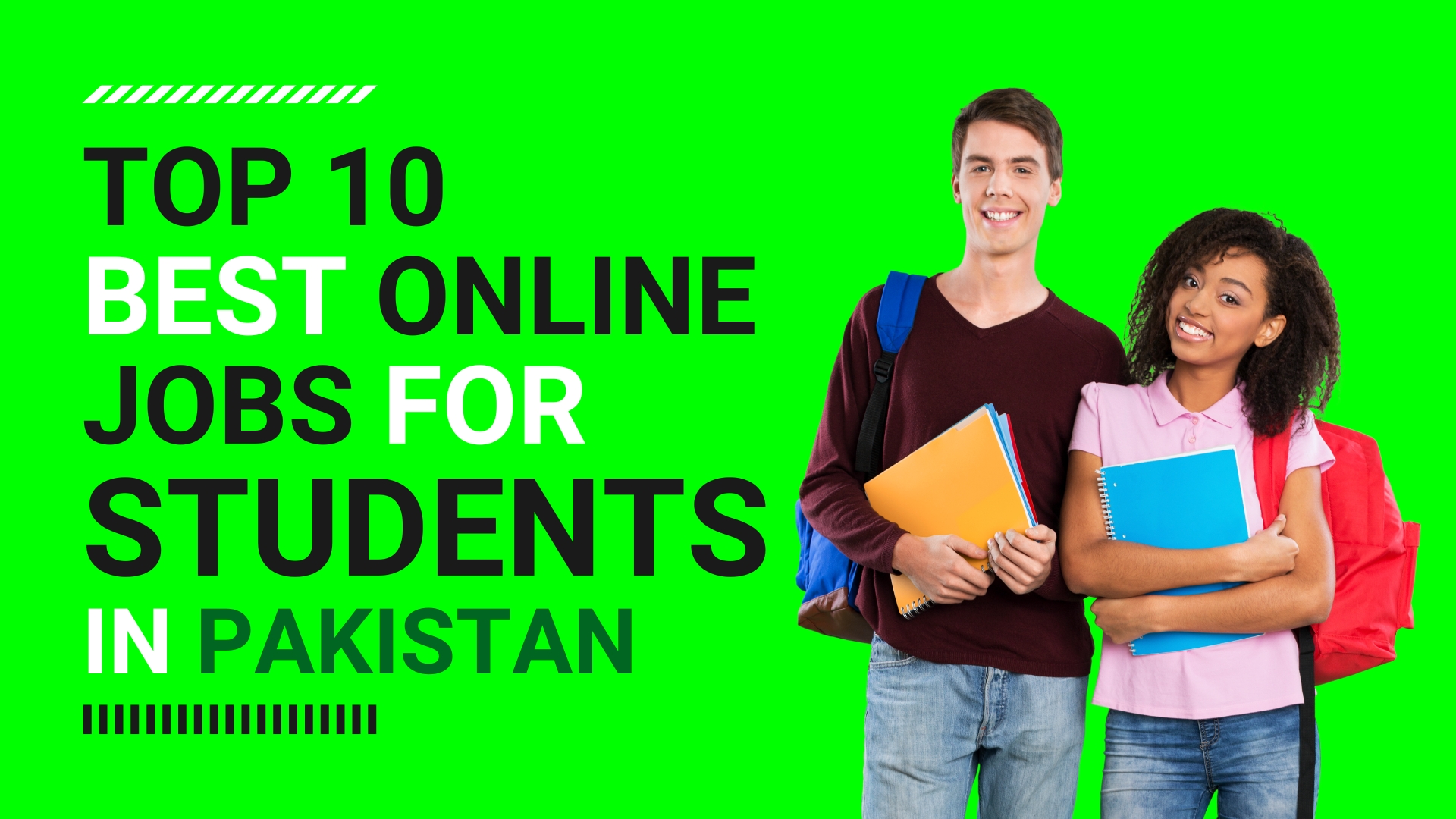 If you're looking for a way to make extra money while still in school or college, look no further. Check out our most recent list of Online Jobs for Students in Pakistan!
On the other hand, these job types are ideal for people who want to get their feet wet in the workforce while still studying.
So what are you waiting for?
Table of Contents
List of Online Jobs for Students in Pakistan
These are the top ten trending online jobs in Pakistan for students, as well as a list of suitable jobs for matriculation or intermediate students.
Freelancing
Data Entry
Blogging
E-Commerce
Digital Marketing (SMM)
Online Teaching (Tutoring)
SEO
Graphic Design
YouTube (Channel)
Photography
Top 10 Best Online Jobs for Students in Pakistan
Students looking for part-time work in Pakistan frequently choose freelancing as their preferred option. Those with knowledge or experience in any field can easily pursue opportunities online through creative thinking and wonderful ideas, rather than focusing on obtaining a higher educational qualification.
As a result, nothing should stand in your way of becoming an accomplished freelance job seeker!
By doing online jobs, you can not only earn a good living but also continue your studies and launch your career as a freelancer. There are numerous online jobs for students in Pakistan that can help them realise their dreams and desires.
Trending Online jobs and their full descriptions are provided below.
Freelancing
In Pakistan, freelancing is a popular form of online employment. Many people are actively involved in this endeavour, using their expertise to create projects and offer services that they are familiar with.
The benefits of freelancing are unparalleled, particularly for students in Pakistan. They can obtain funds relatively easily and have the freedom to work on projects on their own schedule.
Furthermore, if a suitable provider is found, they will undoubtedly be able to make an impression on clients by providing high quality services – this all depends on your expertise as well as creativity!
Here is the list of popular freelancing skills that you can learn and offer as a service online!
Graphic Design
Video Editing, Animation and Vlogging
Digital Marketing
Virtual Assistant
Communication and Soft Skills
SEO (Search Engine Optimization)
WordPress
Data Analytics and Business Intelligence
Affiliate Marketing
Creative Writing (Copywriting)
E-Commerce
AutoCAD
QuickBooks
Data Entry
Data entry is an appropriate option for students who want to enter the workforce with little or no experience. This type of job requires no prior training and allows for a quick entry into the labour market. You will be tasked with entering data into a database, which may require you to commute to an offsite office.
Various companies offer various types of data entry tasks such as transcribing text from files, converting handwritten information into numerical values in Excel sheets, and so on – providing plenty of opportunities for fresh graduates with no qualifications to get started in their career path!
Blogging
Blogging is a highly effective way to make money. Individuals can create a website on Google and to create content that can be monetized through AdSense and Affiliate Marketing.
Students are frequently advised to pursue blogging as a viable and accessible online job. It is, however, somewhat difficult for those who are still learning the ins and outs of this industry. It takes time to master the craft, but if a student is motivated enough, they can succeed in their endeavours.
Create your website and choose a topic of interest – but don't stop there! Continue to work without regard for monetary compensation in order to gain experience that will be invaluable when pursuing other opportunities later on!
E-Commerce
E-commerce is a new business venture that is gaining popularity in Pakistan. The popularity of these websites explains why so many people are investing in them and using their services without the need for prior capital investment.
In fact, there are numerous Virtual Assistant positions open to students. With the growth of online businesses and the need for remote workers, the number of Virtual Assistant positions available as online jobs for students in Pakistan has increased.
These positions provide students with the opportunity to gain valuable experience while also allowing them to work flexible hours that fit around their studies.
Digital Marketing (SMM)
If you enjoy interacting with people online, this may be the job for you! You'll be in charge of managing social media accounts and creating engaging content for your target audience – a true labour of love! As advertising practises have shifted, the world is progressing at an exponential rate.
Business owners frequently have social media pages as well as a desire to launch digital campaigns for their brands, products, and services across multiple platforms; companies are eager to hire skilled digital marketers to assist them in achieving these objectives. If you've mastered the art of effective marketing, you should definitely offer your services!
Online Teaching (Tutoring)
When you're doing well in college, it's natural to assume that everyone else is doing well as well. However, upon closer inspection, many people struggle to complete their coursework. Only students with post-secondary credentials, such as inter or matric, are eligible for this field.
Tutors can teach online through a variety of platforms. It necessitates expertise; however, it can be begun at a low level on topics about which you are already knowledgeable. This is a far more lucrative opportunity than data entry if you have teaching skills as well as a strong understanding of your subject. Based on the work processes involved, you may be paid hourly or on a set salary.
SEO
In today's digital landscape, Search Engine Optimization (SEO) has become an increasingly popular way for students in Pakistan to earn extra money. Students with the right knowledge and dedication can use SEO to market their skills and services on a global scale.
This can be a great way for students to earn passive income while still focusing on their studies. Many online businesses in Pakistan are always looking for skilled SEO specialists, so this is an excellent entry-level position. With the rise of online education and digital technologies, there has never been a better time for Pakistani students to take advantage of this lucrative opportunity.
Graphic Design
If you want to learn more about graphic designer? Then, learn Photoshop, web design, and profitable freelancing so you can learn everything from the ground up. Graphic designers create graphic concepts that inform, inspire, and fascinate viewers using software or their own two hands.
I know there are no other options for online jobs in Pakistan for students, but it may allow you to earn money before graduating.
There are numerous opportunities in the field of graphic design, ranging from logo creation to stationery such as visiting cards or flyers.
If you want to make money designing these items, you can do so after learning about it; however, if that's not your cup of tea, photography editing is another sub-field within this field that offers rich creative potential for those willing to explore its depths!
YouTube (Channel)
YouTube is a new avenue for earning money online. Pakistanis are establishing monetized channels that generate substantial profits. The platform allows you to create a free channel and use it to upload videos, tutorials, and experiences!
Are you a Pakistani student looking for online work? If you have the creative thinking and communication skills to captivate your viewers, YouTube videos can be an excellent source of employment. There are numerous subjects available, such as sports, cosmetics, teaching, or poetry – depending on your language proficiency; however, demonstrating proficiency in both is essential to gain visitors' appreciation. This job is ideal for matriculation or intersession students because it requires no training.
Photography
If you love photography and enjoy interacting with clients, this could be the perfect job for you! You will be in charge of photographing events, weddings, and commercial projects.
Selling photos is like other online jobs in pakistan for students and is a good option for students in Pakistan. You can earn money by selling your photos on stock websites. The primary requirement for this purpose is a smartphone. You can upload images and hope for income through sales/downloads – that will eventually pay off!
CONCLUSION
These are some of the most dependable online jobs in pakistan for students, and I'm confident we'll be able to earn a good living from them. Some sites require registration, so fill out your free trial form and try it out! To begin earning money, all you need is a computer and an Internet connection!
Only a few excellent career paths are mentioned in the preceding post. People who work from home can become Social Media Managers, data entry specialists, and teachers, to name a few. Do not hesitate if your profession can be completed on a computer and you want to work from home without investing! Inquire with your employer about working part-time or even full-time; they may agree!
FAQ'S
How can I earn money online in Pakistan as a student?
There are several ways to earn money online in Pakistan as a student. Some of them include: 1. Freelance Writing, 2. Become an Online Tutor, 3. Online Surveys, 4. Start a Blog, 5. Become an Affiliate Marketer, 6. Sell Your Services, 7. Become an Online Consultant.
Which online job is best for student?
The best online job for students is determined by the student's personal skills and interests. Tutoring, freelance writing, virtual assistant, web design and development, data entry, social media management, content moderation, and survey taking are all popular online jobs for students.
Which online job is best in Pakistan?
The best online jobs in Pakistan includes freelance writing and editing, data entry, web development, graphic design, virtual assistant, and customer service.
What jobs can a 15 year old get in Pakistan?
Tutor, online freelancer, delivery driver, shop assistant, and restaurant worker are some common jobs for 15-year-olds in Pakistan.
WHICH JOB IS EASY IN PAKISTAN?
Salesperson, call centre agent, teacher, accountant, data entry operator, receptionist, customer service representative, delivery driver, and content writer are some of the most common and simple jobs in Pakistan.
How can I earn 1000rs a day?
There is no single answer to this question because there are numerous ways to earn 1,000 rupees per day. Freelancing, starting an online business, selling products or services, becoming a virtual assistant, taking on odd jobs or tutoring, and even investing in stocks, bonds, or cryptocurrency are some of the most popular options.
Can I get a job if I study online?
Yes, if you study online, you can get a job. Many employers are beginning to recognise the value of online education and are willing to hire candidates who have completed online courses.
Which online JOB IS BEST FOR a GIRL?
There is no such thing as the "best" online job for a woman. It is entirely dependent on the individual's abilities, interests, and goals. Females can find work online in a variety of fields, including freelance writing, virtual assistant, customer service, social media management, and online tutoring.