Fiverr Buyer Requests Gone! New Feature Launched [2023]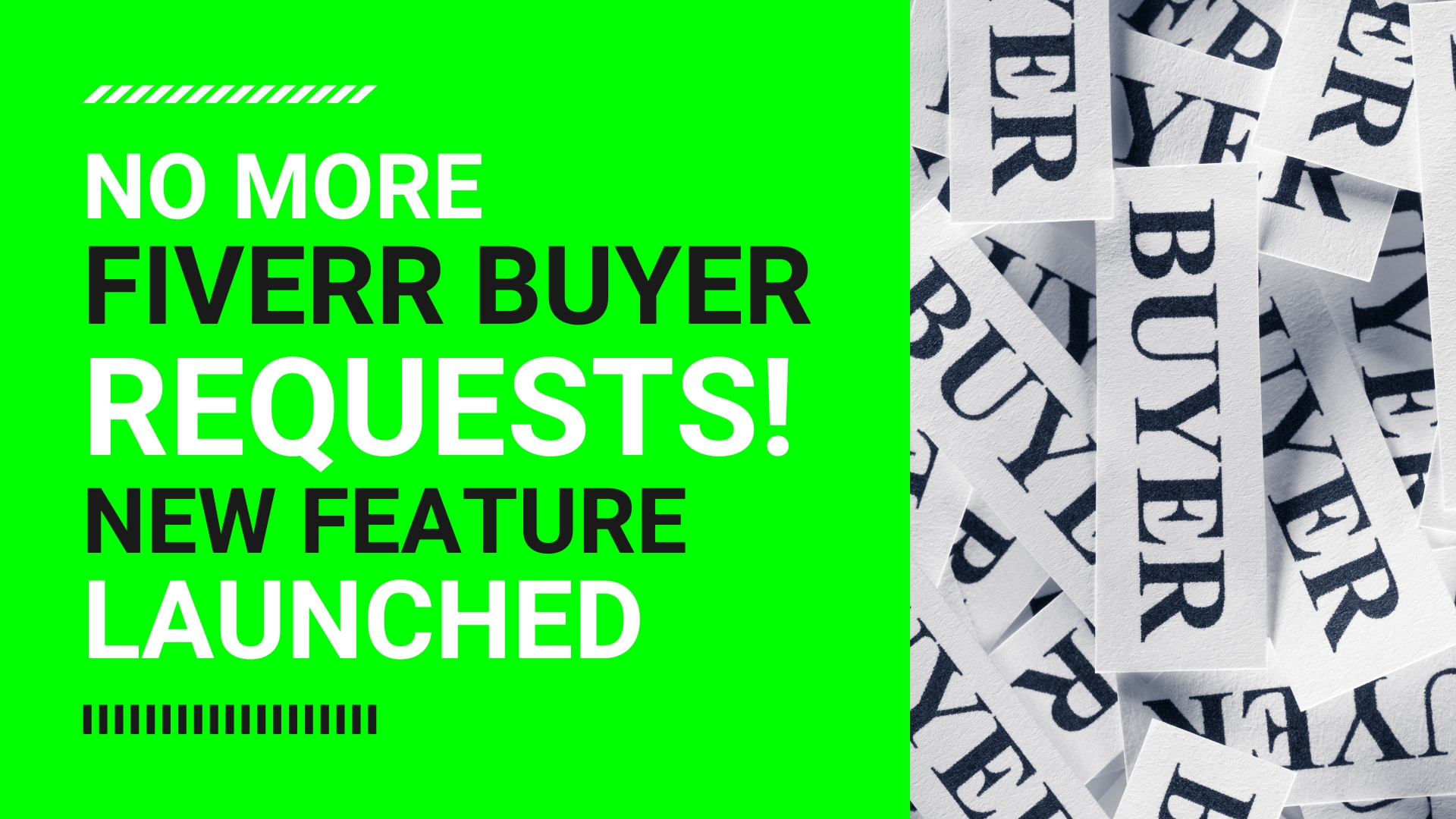 If you're still looking for Fiverr Buyer Requests, the answer is short and simple: they've been replaced by the new Matching Feature called Get Matched With Buyers! This new feature is designed to help buyers avoid irrelevant requests from sellers that they don't actually need or want.
When a buyer requests a service or product from a seller, Fiverr's new matching algorithm will notify the seller and give them the opportunity to choose either Create Offer and (send their offer or proposal) or choose Not Interested.
If the seller chooses to create an offer, it will be sent to buyers automatically. If the seller chooses Not Interested, the offer will be hidden from view.
As of now, you know about Fiverr's new feature that helps sellers and buyers find the best possible matches based on what they need or want. So let's dig deeper into how it works and how it is better or worse than Fiverr Buyer Requests feature.
buyer requests on fiverr
Table of Contents
Fiverr Buyer Requests VS Get Matched with Buyers
The Fiverr Buyer Requests page was a traditional type of job page, similar to those found on other freelance sites. On this page, sellers were able to bid on different projects posted by buyers. Buyer requests were an excellent way for new sellers to gain exposure on Fiverr, and sellers were given 10 credits per day to bid on projects (each credit equaled one job bid).
On the other hand, Fiverr's new algorithm, Get Matched with Buyers, is designed specifically for large and complex projects and uses the details provided by buyers to instantly find and match sellers to the most relevant orders. This algorithm gets the best orders from the most relevant buyers who are strategically matched to your service.
How does getting matched with your ideal buyer work?
Matching with your ideal buyer is a process that begins with you. You must provide information about yourself and your services in order to be matched. The more information you provide, the better the algorithm will match your profile with potential buyers.
When your gig service matches with the buyer's project brief, you will be notified with a message: "It's a match! We think you're a great fit for this brief." or "A new certified client has messaged you!" if a buyer messages a seller.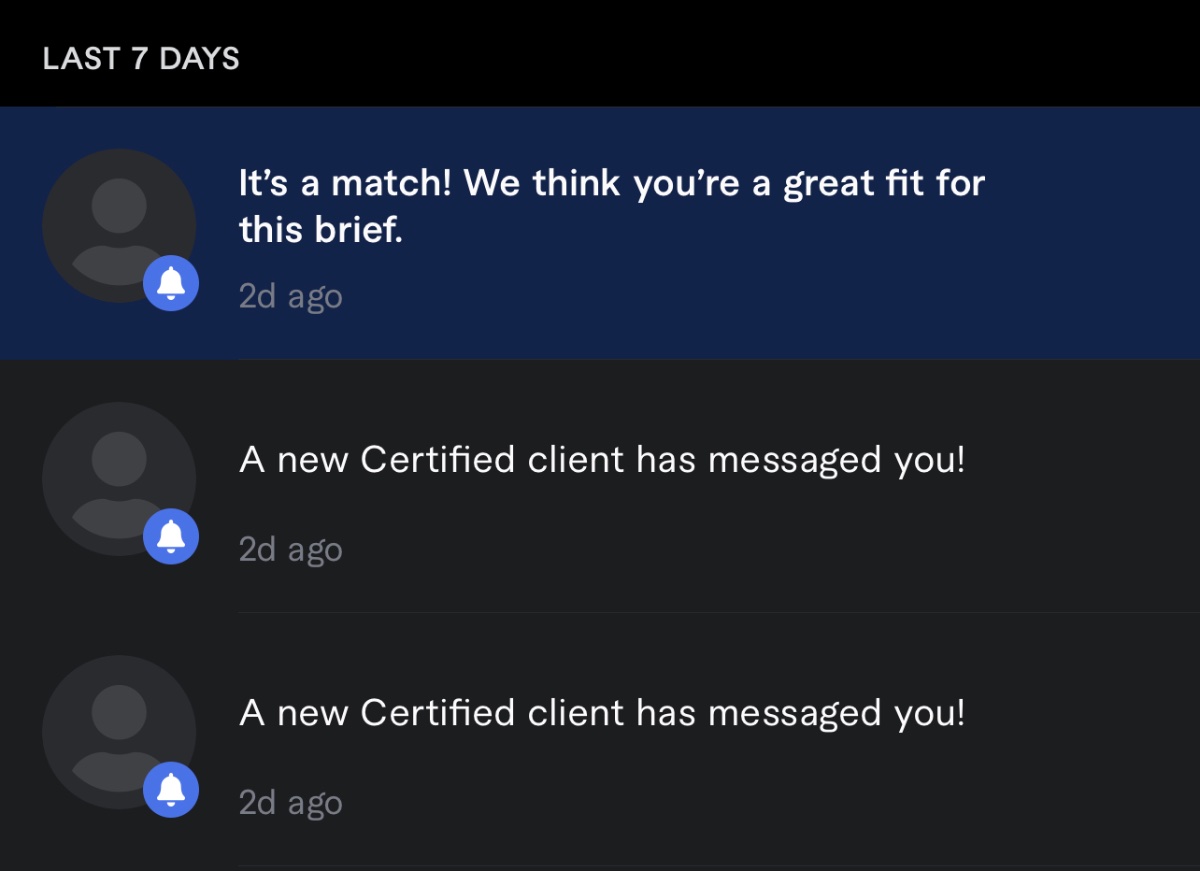 After clicking on the match, you will get a new page with a message: "Your service is a match! We think you're a great choice for this buyer-send them your best offer." and job brief from buyer.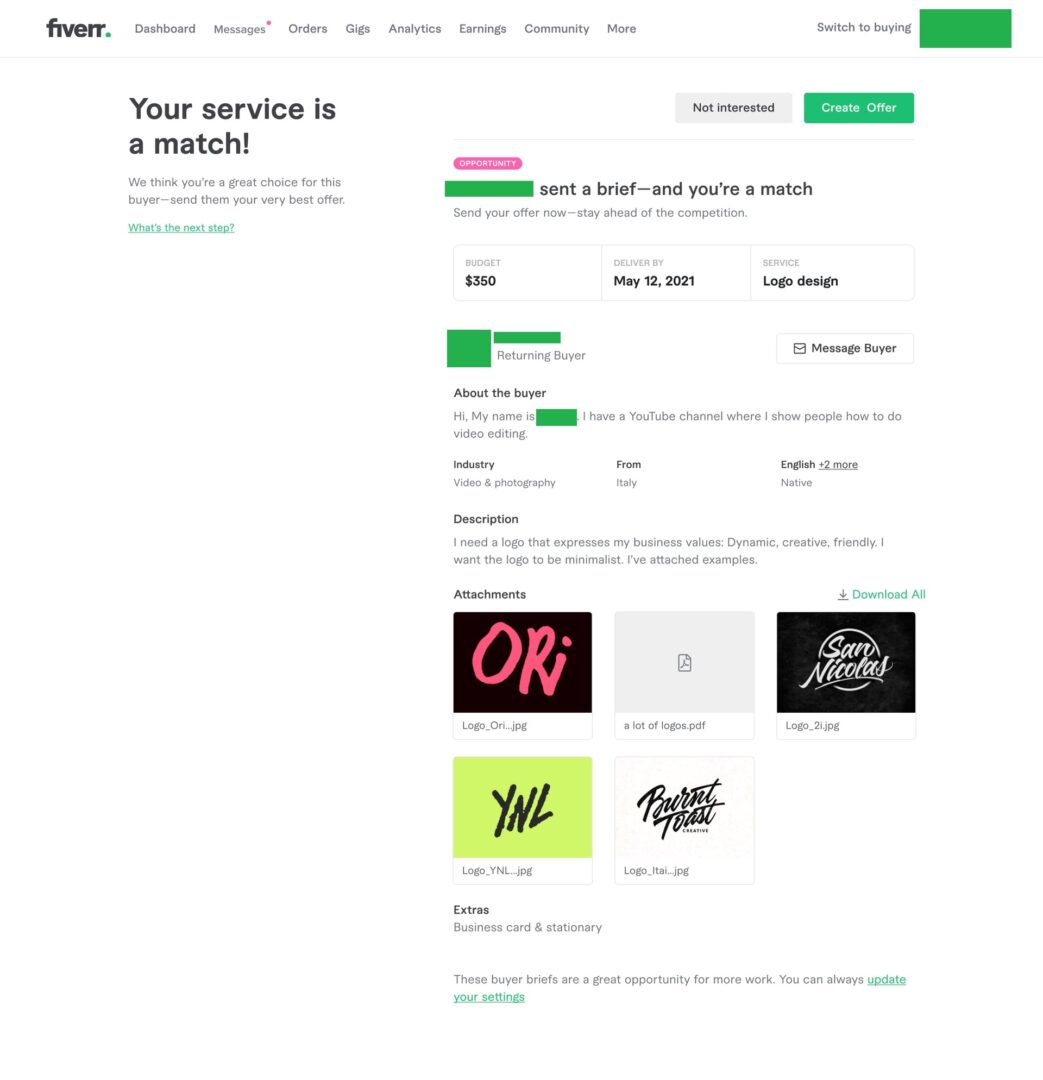 After that, if a seller wants to apply for this job, it has to send a bid proposal.
If you don't know about bidding or proposals, you can read the famous freelance proposal called "7 Rangi Formula" and apply it to your bids and offers to win more projects.
To manage matches with a buyer's brief, follow these steps:
Click the Opportunity notification, and then choose either Create Offer or Not Interested. You can contact the buyer to ask any questions before submitting your bid and create a relevant offer.
If interested, click "Custom Offer" and send the buyer an offer based on their brief.
Click Convert.
Note: The buyer's brief is sent to a few selected sellers, and then they choose and accept the best offer based on their needs.
Keep track of your match's status
Here are five different statuses of your matches:
Opportunity
This means that a buyer's brief is currently open and accepting offers – time to send your offer!
Canceled
This means that a buyer has chosen to stop receiving offers for their brief. It may be too late to send an offer.
Accepted
Your offer has been accepted. Get started with your project as soon as possible.
Closed
A buyer has accepted another seller's offer, which caused your offer to be declined—try again next time.
Offer created
That means that you have made an offer, but the buyer is still deliberating and has not accepted any offers they have been sent. You're in with a chance of being chosen!
FAQs
What's the difference between a "Buyer Request" and a "Match Feature"?
The Matching feature allows you to be matched with a buyer that really fits you best. It also provides better service for your customers and higher profits for your business.
Get matched with the sellers
Find the right seller for exactly what you need, and when you need it! If you're new to Fiverr or have experience in buying online, they'll strategically find you the best services/products from sellers relevant to your needs. Fiverr's algorithm will retrieve information based on the input you provide and match you with the best seller in the area.
Conclusion
Sellers can now rejoice as Fiverr introduces the all-new Get Matched With Buyers algorithm. This new feature offers sellers a better way to get matched with buyers who are strategically matched to their services. With this new system, buyers will be able to find the best sellers for the most appropriate projects, and sellers will no longer have to worry about buyer requests clogging up their inbox.
This is due to the fact that requests will now be organized into separate sections, making it easier for sellers to access and respond to them. Buyers will also be able to track the progress of their requests with more ease. These changes are expected to help both buyers and sellers on the platform, allowing for smoother communication and a better customer experience.